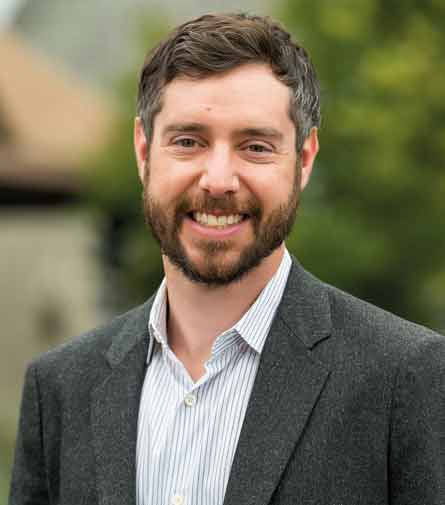 Brian Stern, CEO
There's no doubt that in the wake of the COVID-19 pandemic, the need to ensure thorough disinfection of healthcare premises have become more imperative than ever. However, the current approach that most healthcare facilities adopt for disinfecting their infrastructure, be it chemical disinfection or UV light disinfection, can be both herculean and extraordinarily time-consuming. Hand-held devices used for UV light disinfection can only cover a small area at a time, which is inconvenient as today's prevention measures for COVID-19 requires rooms to be disinfected multiple times a day. Today, we need a solution that can use UV light to disinfect large areas efficiently—one that can also be automated to be activated at a scheduled time to reduce staff workload. PURO UV Disinfection Lighting, powered by Violet Defense® technology, is a solution that many hospitals and medical facilities are exploring and ultimately utilizing.
PURO Lighting offers powerful and efficient UV light-based disinfection solutions that can be easily installed and automated to disinfect spaces wherever people gather. Importantly, two very recent independent studies have shown that PURO Lighting's solution has effectively inactivated 99.99% of live SARS-CoV-2 (Coronavirus.)
In an interview with MD Tech Review, Brian Stern, CEO of PURO Lighting, explains how their UV disinfection products can effectively and efficiently disinfect spaces, and how their UV lighting fixtures can be installed in ceilings or mounted on walls to bring high intensity disinfection on demand to wherever it's needed. They also offer mobile UV disinfection products, as well as a brand new UV robot called PUROBOT that disinfects hightouch, larger space facilities.
Could you give our readers a quick overview of PURO UV Disinfection Lighting?
PURO Lighting was founded two years ago with the vision of using light to promote health and wellness within many commercial spaces. We utilize light in unique ways to provide a healthier and more comfortable environment for all. Our first marketed product, our Helo line, is based on a proprietary technology, patented by Violet Defense, that provides powerful, miniaturized pulsed- Xenon disinfection that can be installed and programmed for the first time ever in a ceiling.
Just as often, there are medical facilities that require the flexibility of mobile disinfection equipment, and that's why we also have our Sentry line of easily movable UV disinfection products. They use the same great technology as our installed units, but they can be easily moved from room to room providing the most flexible UV disinfection solution. Our UV disinfection products are used daily in medical offices, exam rooms, urgent care facilities and more.
We also have begun offering our newest UV device, the PUROBOT UV, a completely autonomous, programmable, rechargeable robot that's perfect for high touch areas and larger spaces. It's a "set it and forget it" opportunity for hospitals of all sizes, where we pre-program the areas needed to be continually disinfected, and the PUROBOT UV does the job.
Today, our products are installed to run automatically on a scheduled basis to disinfect areas up to a 6-log reduction in bacterial, viral, fungal, and mold strains.
We like to talk about PURO Lighting products in terms of 3 P's: Protect against spreading viruses today, prevent viruses from spreading further and prepare for any future viruses and pandemics
What challenges did you observe in the healthcare space that drove PURO Lighting to provide a UV light-based solution?
One of the biggest challenges we found in healthcare is that many hospitals and some surgery centers were dealing with hospitalborne or surgery-site infections and were looking for ways to disinfect their premises automatically. Usually, hospitals and clinics leveraged UV lighting for disinfection in an inefficient manner. They wheeled in a cart with a UV device, or used a UV robot to disinfect an operating/patient room.
Our solution is cost-effective and miniaturized enough to be installed permanently within a space. It can be deployed through a hospital and autonomously controlled, reducing the workload, and provides the same level of disinfection that they have come to expect from a mobile UV disinfection unit.
Could you comment on the value of PURO Lighting's products in regards to combating the spread of COVID-19?
Two important testing facilities were able to prove conclusively that PURO UV Disinfection Lighting products effectively eradicate the SARS-CoV-2 virus, commonly known as COVID-19, on a number of materials typically found in most environments. What's amazing is that the testing was done using the actual live virus as opposed to a commonly tested surrogate. The studies confirm that PURO UV Disinfection Lighting's Helo F2 pulsed-Xenon light unit effectively inactivates up to 99.99% live SARSCoV- 2 virus on glass, stainless steel, plastic and N95 respirator mask material. PURO Lighting's devices can achieve undetectable levels of SARS-CoV-2 on N95 masks after disinfection, giving wearers in a variety of environments confidence that their masks are safe to use. Given the increase in COVID-19 infections across the US, this level of testing and confirmation of effectiveness against the COVID-19 virus couldn't have come at a better time.
Can you elaborate more on the features of your solution and the various ways it benefits your clients?
PURO Lighting products can be permanently installed within a space, whether it's a hospital room, an examination room, or an operating room. The unit can be manually triggered by turning on a wall switch when someone wants to disinfect a room after the occupants have left. It can also be scheduled to automatically go on at a specific time as per a hospital's disinfection protocols. The UV unit can also integrate with and be triggered through a building automation system that controls other facility functions like lighting, and ventilation. present in most modern healthcare facilities. Healthcare facilities can enjoy the flexibility of installing and using our solution to maximize disinfection and reduce healthcare-associated infections.
Could you provide our readers with a case study where you help a client in efficiently disinfecting their facilities?
One case study is where a hospital in South Carolina is using our units for their operating rooms. Before contacting us, they searched for a solution that can provide autonomous disinfection throughout their operating rooms. Though they deployed UV light as a disinfectant, using it in the most efficient manner. We replaced their traditional UV systems with our units that were automatically scheduled to disinfect the operating room to provide terminal disinfection. The hospital tested our units to confirm their efficacy, and it was found that the tested operating rooms were virtually free of pathogens. That was a big success for us.
What are the factors that put PURO Lighting ahead of the competition?
We have a unique UV disinfection product on the market, it's miniaturized so it can be installed in a ceiling, it's programmable for built-in automation, and it can be fully integrated into a facility building automation system.
Our products use a pulsed-Xenon lamp that is highly effective in killing a wide range of microbes. Our units are independently tested and validated to inactivate a number of pathogens including SARS-CoV-2, MRSA, Norovirus, C. diff, E. coli and C. auris need to be italicized.
Finally, we've been asked to work on projects from one of the world's largest transit systems to local urgent cares and doctor's offices. In short, our products are widely deployed across the United States and Canada.
In the coming 12-18 months, what is the next big step that PURO Lighting will be taking?
The pandemic has shown us that we need to be better prepared to meet whatever infection challenges, whatever they may be. That's why we are developing new products to fit the specific disinfection needs of more and more environments. And we're creating more features that help medical facilities of all kinds and sizes, to be prepared for future pandemics. It's actually a very creative and important time for our engineers and product developers, and we're up for the challenge.