Recent studies have demonstrated that Coronavirus is released during exhalation, talking, sneezing and coughing in microdroplets that are small enough to remain suspended in the air and pose a risk of exposure to individuals. Further, the Environmental Protection Agency has noted clearly that indoor particulate matter levels have the potential to exceed outdoor levels. This implies that indoor environments are highly vulnerable to airborne viruses like the novel Coronavirus, bacteria, mold, allergens, smoke, and chemicals, highlighting the importance of purifying the air in confined spaces and maintaining its quality. This is where Airpura Industries, a premier indoor air purification solution provider, comes to the rescue. "In the age of COVID-19, we are witnessing rapid spike in the demand for best-in-class air purifiers. For the past two decades, Airpura air purifiers have been used in medical environments to abate particles that are being aerosolized through various medical procedures. COVID-19 is the fifth pathogen Airpura has experience with, the last one being the SARS epidemic. Our air purifiers are one of the very few that have been tested by independent labs and have been shown to remove airborne particles of COVID-19 from the air. We aim to be fully transparent with our customers by publishing all of our test data on our website as we stand by the performance of every air purifier that leaves our factory." says Helder Pedro, the President of Airpura Industries.

In discussion with the editorial team at MD Tech Review, Helder Pedroand Stacy Singh, Marketing and Communications Director, Airpura Industries, share how Airpura brings clean indoor air to people with innovative air quality products and helps them lead longer and healthier lives.

Could you shed light on the inception of your company?

The journey of Airpura can be traced back to almost 16 years ago when Helder realized the health risks posed by the declining indoor air quality and decided to develop an effective air purification solution to solve the problem. It all began when Pedro sought to help one of his family members suffering from environment-related health issues. He developed a prototype of an air purifier that could filter out all of the allergens, chemicals, bacteria, and viruses from the air, leaving only clean air. This solution enabled the Pedro family member to breathe better and feel the difference in just one day.

This brilliant idea of Helder led to the foundation of Airpura Industries. Since then, the company has developed the 600 series of air purifiers, featuring several models with its innovative and patented filtration system. This unique and powerful filtration system consists of three levels, filtering out 99.97 percent of airborne chemicals, microorganisms, smoke, etc., as small as 0.3 microns. Driven by the mission to help thousands of people suffering from breathing difficulties worldwide, Airpura creates air purifiers that deliver unparalleled performance.

In the wake of the pandemic, how are your company's offerings helping control the spread of COVID?

COVID is primarily spread through community transmission; the virus is transmitted through droplets/particles suspended in the air (aerosol transmission) from symptomatic or asymptomatic people talking, sneezing, or coughing. If someone is sick at home or at the office, or even asymptomatic, people in contact with that individual are at higher risk of contracting and spreading the disease. To this end, we help both residential and commercial establishments preserve the indoor air quality and maintain its purity with our air purifiers to mitigate the risks of transmitting the virus. We are helping hospitals, schools, dental clinics, restaurants across the world, with our air purifiers that can be deployed in any space where people are.

Could you elaborate on the core technology used in your air purifiers?

Our air purifiers support 360-degree air distribution, cleaning spaces of up to 2000 square feet.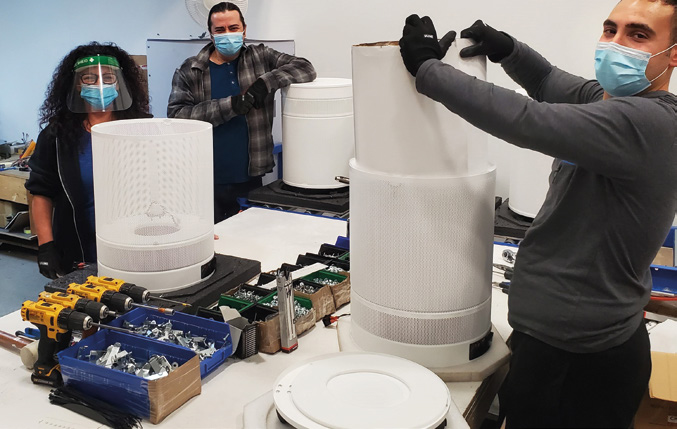 When air from the surrounding area enters the air purifier, our HEPA filter traps 99.7 percent of pathogens and other airborne particles suspended in the air. Our UV germicidal lamp forms an added level of protection, which most other air purifiers don't offer. The trapped virus is irradiated by the UV light, which destroys the DNA of the virus, rendering it completely sterile. In the event that the virus escapes back into the airstream, it is completely harmless.
In essence, our air purifiers enable multi-stage filtration—premium activated carbon blends absorb chemicals, VOCs, and odor; the true medical-grade HEPA filter captures harmful suspended particles, dust, pollen, pet dander, and other airborne allergens; and the UV germicidal lamp destroys airborne mold, viruses, and bacteria. Our products are indeed a worthwhile investment as they have the capacity to clean large areas, and customers can even use one product to clean the entire house.
What, according to you, steers you ahead of the market competition?
Our holistic air purifiers can even mitigate most VOCs and toxic gases in the air caused by wildfires. We've delivered our products across California, Oregon, and Washington in the past few months. Our air purifiers have the potential to control odor and chemical contamination in the air effectively. Today, thousands of customers around the world rely on our air purifiers to breathe safe along with ensuring and maintaining the purity of the air indoors. In addition, our UV germicidal technology is defined by unsurpassable equality standards in the entire air purification industry. Our UV600 air purifier is one of our best-selling products largely deployed in hospitals, dental clinics,schools, workplaces, and even churches. We are at the forefront of air purification with our exemplar technology.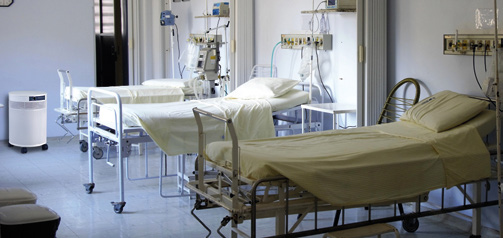 We've been actively focusing on pathogen control over the past two decades.COVID-19 is the fifth pathogen we've addressed, the last one being SARS—a testament to our in-depth knowledge of pathogen control. Notably, a study conducted by McGill University states that the unique circumferential air outflow design of our air purifiers reduces the potential of one COVID-infected person causing an infection cluster. Circumferential outflow diffusers are less likely to disperse droplets of cough or sneeze into the atmosphere compared to air purifiers with vertical exhausts. This unique air outflow process proves to be really beneficial in our battle against COVID. Our air purifiers remove the vast gamut of airborne pathogens that includes Ebola, gastro, SARS, Infleunza-A. New viruses are emerging all the time and we are prepared for them by always staying on the cutting edge of technology.
Could you cite a customer success story?
We have thousands of success stories. WhenCOVID-19 was declared a global pandemic, thousands of hospitals, schools, offices, restaurants turned to Airpura to help them clean their air and protect both their staff and clients. We helped thousands of schools safely reopen with our air filtration solutions. Hospitals across the world deployed our air purifiers in the triage and waiting areas, and the results were impressive. Dental clinics became one of the most dangerous working environments because of the fact that the grinding and polishing procedures generated large amounts of aerosols and droplets which are propelled into the air from the oral cavities of patients. Airpura worked with thousands of dentists to develop proper infection control regimes using air purifiers in the operatories to help keep their staff and patients safe.
What are your plans for the future?
We have a huge presence in North America, and now the demand for our air purifiers is skyrocketing in Europe. We are planning to set up logistical bases and shipping hubs to deliver products directly and as quickly as possible to our customers. We are also looking to make our air purifiers smart such that they can adjust and self-regulate according to air quality. By leveraging the internet of things, we intend to provide personalized service based on the users' requirements and air contaminants present in their surrounding area. In this way, we can analyze the air purification level required and notify users of the same. We aim to help our customers in the best possible way with personalized solutions to resolve any air quality issue and stay at the helm of the on-going fight against COVID-19.