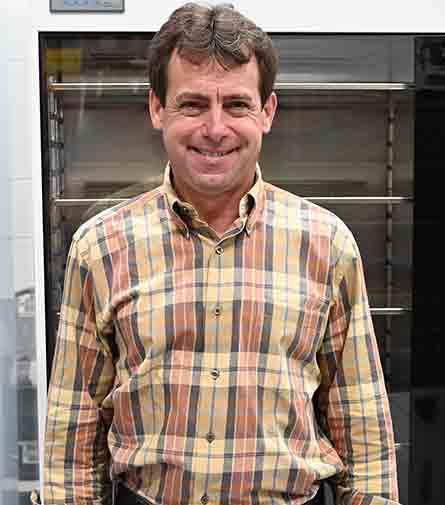 Michael Wetzel, President and CEO
Adherence to strict hygiene standards and ensuring effective sterilization are quickly becoming the top priorities for healthcare providers, especially in the post- COVID world. It is imperative for medical facilities to proactively react in the case of novel infections. While infection control endeavors by hospitals, including sterilization and storage of medical instruments, aim to ensure the health and well-being of patients, space constraint has emerged as a fundamental problem. Medical instruments are stored in sterilization bags that are often stacked on top of each other due to insufficient space for storage. Such a storage setting can cause minute tears in the bag, which can contaminate the sterilized instruments. Healthcare facilities can improve sterile conditions for stored sterilized implements and inventory with the right storage tools. This is where Air Innovations—a world leader in designing and building custom environmental process control systems—excels.
Air Innovations designs, tests, and manufactures environmental control units for original equipment OEMs, custom HVAC projects, and unique environments. The company's sterile storage cabinets (SSC 4500) exceed industry standards by offering flexible storage space with optimal temperature, cleanliness, and humidity conditions for storing medical instruments. These sterile storage cabinets replicate cleanroom conditions, allowing the healthcare facilities to easily monitor sterile instruments' conditions and, at the same time, rely on the integrity of the space.
In an interview with the editorial team of MD Tech Review, Michael Wetzel, President and CEO of Air Innovations, discusses at length how their sterile storage cabinets help healthcare providers meet the cleanliness and hygiene standards by drastically reducing the risk of infection.
What are the factors that led you to offer sterile storage cabinets?
During the peak of the COVID-19 pandemic, we saw an incredible demand for isolation capacity. Eventually, once we started returning to normalcy, the focus of the hospitals shifted from isolation space to sterilization. This is because although the vaccination and other remedies are capable of curbing the spread of COVID, the need for infection control measures remains of pivotal importance to the healthcare industry. The healthcare industry has started to recognize the importance of sterile storage. In fact, it is the insurance industry that made the medical fraternity become serious about preventing infections in hospitals. This is because the insurance industry doesn't necessarily pay for hospital-acquired infections. As a result, the hospitals are now penalized, making sterilization and other infection control means highly imperative for them.
On the other hand, sharp medical instruments, when stored in sterilization bags, can create micro-tears in the bags, thereby increasing the risk of viral infection. Even changes in temperature or humidity can cause moisture condensation inside the bag, which can contaminate the device stored. There are no consistent regulations in the healthcare industry for storing sterilized items. But, The United States Department of Veterans Affairs (VA) has specified directives as to how items need to be stored in their facilities post sterilization. Taking these directives and the growing need for efficient sterilization into account, we built the sterile storage cabinet.
Our sterile storage cabinets provide hospitals with the versatility and flexibility in maintaining the sterility of medical instruments
What are some of the major challenges that healthcare facilities face, and how does Air Innovations solve them?
Treating an infection could be exorbitantly costly not only for hospitals but for patients too. A simple breach can contaminate surgical instruments or implants, but the cost to treat that infection is incredibly high. Hospitals need to pay close attention to how they store sterilized items and keep track of the number of infections caused as a result of using a contaminated medical implant or surgical instrument to treat patients. As such, the proper storage of sterilized items is crucial. By this, I mean storing the sterilized equipment in packages in a cleanroom, thereby radically minimizing the probability of contamination even if there was a breach in the packaging.
To ensure the sterility of the instruments and the integrity of packaging, surgeons generally hold the bag up to the light. This is not an effective way to check for sterile conditions as it is impossible to see a micro tear with the naked eye, but it is large enough to allow viruses of sub-micron size to pass through. Rather, hospitals must take as many precautions as possible— storing the sterilized medical items in bags and keeping them in cleanrooms under optimal temperature, humidity, cleanliness, and pressurization control.
Larger facilities can afford to build centralized, large cleanrooms to store their items, unlike small hospitals with space constraints. This is where our sterile storage cabinets play a vital role. The cabinet is a fully secured, deployable cleanroom that allows hospitals to store items and ensure the highest level of protection—from sterilizing them in bags, storing them, all the way to the point of use.
Could you elaborate more on your sterile storage cabinets, their features, and the benefits they deliver?
Our sterile storage cabinets provide hospitals with the versatility and flexibility in maintaining the sterility of medical instruments. The VA hospitals are fairly small and use our cabinets as their primary means of storage; they either use only one cabinet or many. On the other hand, in larger hospitals, we find an interesting opportunity to decentralize sterile storage and locate cabinets closer to the point of need. If the sterile processing unit is on level one and operating rooms are on level seven at the opposite end of the hospital, then moving the sterilized items back and forth every time there is surgery is not only tedious but risky as well. By deploying our cabinets, hospitals can carry sterile items to strategic locations and store those sterilized items in the cabinets at night or during off-hours ahead of time, so doctors do not have to wait for those sterilized items, minimizing the risk of delays in an operating room or elsewhere.
Our sterile storage cabinet is a rolling cleanroom with a high-efficiency particulate air (HEPA) filter to remove dust and particulates. The cabinet has an option to integrate ultraviolet light to sterilize bacteria and viruses. Additionally, the cabinet is positively pressurized and temperature- and humidity-controlled. It also provides an added degree of security through a door lock with keypad access.
Could you cite a customer success story?
One of our clients, who manages several ancillary buildings to provide various services, including dental and more, maintained a centralized facility for sterile processing of all medical devices. They relied on the central building to store sterilized items and moved them to adjacent buildings where the medical procedures were performed. They bought several of our cabinets and deployed them in different facilities to not only maintain the integrity of the medical devices post sterilization but also store them close to the point of use. With our cabinets, the client can become more efficient in how and when they move sterile instruments to the point of use.
What does the future look like for Air Innovations?
Currently, we are catering only to the U.S. market. We are looking to sell our deployable, highly flexible sterile storage cabinets internationally. The ability to move them on wheels, plug them in where required, or even relocate them temporarily or permanently makes our cabinet second to none.
The sterile storage cabinet is a fairly new product on the market, which we have been offering in just a single size. We are getting suggestions from customers regarding different dimensions and sizes, and we envision providing customers with various size options so that they can choose as per their needs. Besides, the cabinets can be used not only in hospitals but also in other industries, including pharmaceuticals and more. The demand for our cleanroom on wheels technology will only grow, beyond the storage of sterilized items in hospitals, and we are at the forefront to address that need.