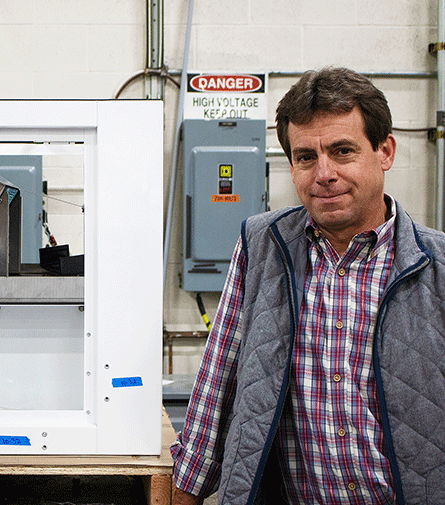 Mike Wetzel, CEO
The outbreak of COVID-19 has undoubtedly highlighted the significance of having contamination control measures within healthcare facilities. Evident that the novel coronavirus can be transmitted through fine airborne particles, there is an increased pressure on the healthcare industry to put a check on the risk of contaminants infecting the healthcare workers. Unfortunately, the pandemic has exacerbated the issues of healthcare-acquired infections (HAIs) by heightening the risk not only for healthcare workers but also for the family and friends of admitted patients and even visitors. This exposes the need for more advanced Airborne Infection Isolation Room (AIIR) facilities to isolate a large number of infected patients to prevent the spread of contaminants from room-to-room and patient-to-patient.
At times like these, hospitals need specialized equipment, including HVAC and other environmental control devices, to eliminate the transmission of contaminant-laden air. Addressing this need is Air Innovations, a designer and manufacturer of advanced environmental control systems. The company specializes in designing and developing custom environmental control solutions for OEMs and non-OEMs.
In a conversation with MDTech Review, Mike Wetzel, the CEO of Air Innovations, states how the company is at the helm of utilizing its experience and expertise to help hospitals prevent HAIs by delivering industry-best environment control solutions.
Could you give a brief overview of your company?
Since our inception in 1986, we have been focusing exclusively on high-tech environmental control solutions. This has helped us evolve into a global leader who designs and manufactures environmental process control systems for a wide range of applications that can't be addressed with standard HVAC equipment. We leverage our longstanding experience in this industry to understand our clients' varying needs for temperature, humidity, filtration, pressurization, and with regards to direct-expansion, chilled-water, or thermoelectric capabilities and customize our solutions accordingly. Our offerings are designed to meet any complex environmental control requirements in almost all industries—be it aerospace, medical, military, semiconductor, or even pharmaceutical.
Speaking of the medical industry specifically, we deliver a wide range of environmental control solutions that allow our clients to meet their healthcare needs. For instance, we have developed a portable contamination control system, IsolationAir, that's specifically designed for hospitals, extended care facilities, and emergency preparedness centers. The system maintains all the required environmental conditions of a hospital negative pressure isolation room as mandated by the CDC and AIA: 12 air changes per hour, HEPA filtered recirculation and exhaust, negative pressure compared to surrounding spaces.
Our robust AIIR solution completely isolates a space from the central air conditioning system, regulates room pressure, and maintains a cleanroom environment within the room
What led to the inception of IsolationAir?
The IsolationAir system is one of our flagship products designed to bridge the gaps in healthcare delivery following the 9/11 catastrophe and SARS outbreak. With the potential of more than 6000 burn victims, the 9/11 incident created an unprecedented demand for positive pressure isolation spaces to protect patients from any possible infections. Unfortunately, the medical community was not prepared with sufficient facilities or technologies to meet this demand. Similarly, the outbreak of SARS in 2002 had highlighted the paucity of negative pressure isolation capacity within the country. As a result, several patients were treated in tents at hospital basements and parking areas, not ideal for providing appropriate care. These incidents exposed the medical community's weakness, as most hospitals couldn't meet the unexpected increase in demand for isolation rooms.
We designed and developed IsolationAir systems to mitigate these deficiencies and to empower the healthcare community with the necessary tools and devices to meet any unexpected demand for isolation spaces. Sized to treat a space as large as a typical two-bed hospital room, our robust mobile device converts a patient room into an isolation room—either positive or negative—in 30 minutes. Since the system is portable, it can be deployed easily to the point of need, or grouped together for larger scale community break outs.
Could you elaborate more on the features and functionalities of IsolationAir?
IsolationAir is a portable contamination control device that serves a wide range of healthcare institutions, including hospitals, extended care facilities, emergency preparedness centers, dental offices, off-site surge space, and even more. Our robust AIIR solution completely isolates a space from the central air conditioning system, regulates room pressure, and maintains a clean room quality environment. To do this, the IsolationAir is built with on-board HEPA filtration, UV sterilization, air conditioning, and ductwork connections capability. Our solution uses its advanced HEPA filtration to prevent airborne particles, while UV light sterilizes airborne viruses and bacteria that get trapped on the HEPA.
The capability to combine all these technologies gives IsolationAir an edge in the market that is covered by US and international patents. It helps healthcare organizations to eliminate possibilities for cross-contamination throughout the rest of the facility, improve air quality for patients and staff, and expand their surge capacity for infectious disease outbreaks, trauma, and burn care. Our solution is designed to meet the CDC and AIA guidelines and address Capability 4 Medical Surge Objective 2 in the Office of the Assistant Secretary for Preparedness and Response.
How IsolationAir helps the medical community to fight the global pandemic?
With the COVID-19 outbreak, we witness an increased awareness of environment control solutions among the healthcare community and even the public. In fact, most organizations that have relied on conventional methods have now realized the need for a robust and flexible solution like IsolationAir to address such unexpected demands and anomalies not only for COVID-19 but for future outbreaks and surge needs. Built with the capability to quickly create both positive and negative pressure rooms on-demand, IsolationAir is a first-of-its-kind solution that helps healthcare facilities prevent the spread of infections from a patient to others and vice-versa. Considering the flexibility that our solution provides, several healthcare facilities are using it for other purposes—like conducting COVID-19 tests or using it at a dental clinic, for instance.
What does the future hold for Air Innovations?
Being the only reliable solution that can address the increasing needs for isolation spaces, we are currently witnessing a massive surge in demand for IsolationAir. We anticipate that this trend would continue going forward, considering the healthcare community's needs to be prepared to fight any epidemic, natural disaster, or terrorism. Dedicated to helping them, we are continuously trying to enhance our solution's capabilities by incorporating more advanced technologies.